Great Book for Anger Management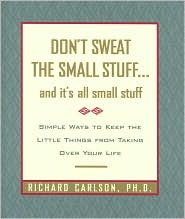 "Don't Sweat the Small Stuff…and it's all small stuff" by Richard Carlson, Ph.D.
I wish I would've read this bestseller when it was first published in 1997; I could have avoided a great deal of angst (and Mylanta, too).
Editorial Review: "Don't Sweat the Small Stuff…" offers 100 meditations designed to make you appreciate being alive, keep your emotions (especially anger and dissatisfaction) in proper perspective, and cherish other people as the unique miracles they are. It's an owner's manual of the heart, and if you follow the directions, you will be a happier, more harmonious person. (Amazon.com review)
You can find this book in your local library in a variety of formats, or you can purchase it used or new in stores and online at Amazon.com and Barnes & Noble.